Enhancing Spaces within Ernst & Young's Chicago HQ
Posted by Julian Moran on
As a company, we believe that design can be transformative and enhance the human experience. We draw inspiration from natural textures and movements to create captivating and meditative designs that invite the viewer to pause and reflect. In early 2022, Perkins + Will, an architectural firm, approached us on behalf of Ernst & Young, a global consulting and advisory firm, to create modern wallcoverings for their Chicago headquarters. The goal of the project was to unify the various spaces in the office, such as conference rooms, office spaces, and public bathrooms, with designs that promote productivity and improve the psychological well-being of the space. The design team at Perkins + Will narrowed down their image and color palette to three popular patterns within our collection that met the brief: Sandstone | Silver Rock, Migration | Snow and Tides | Freshwater.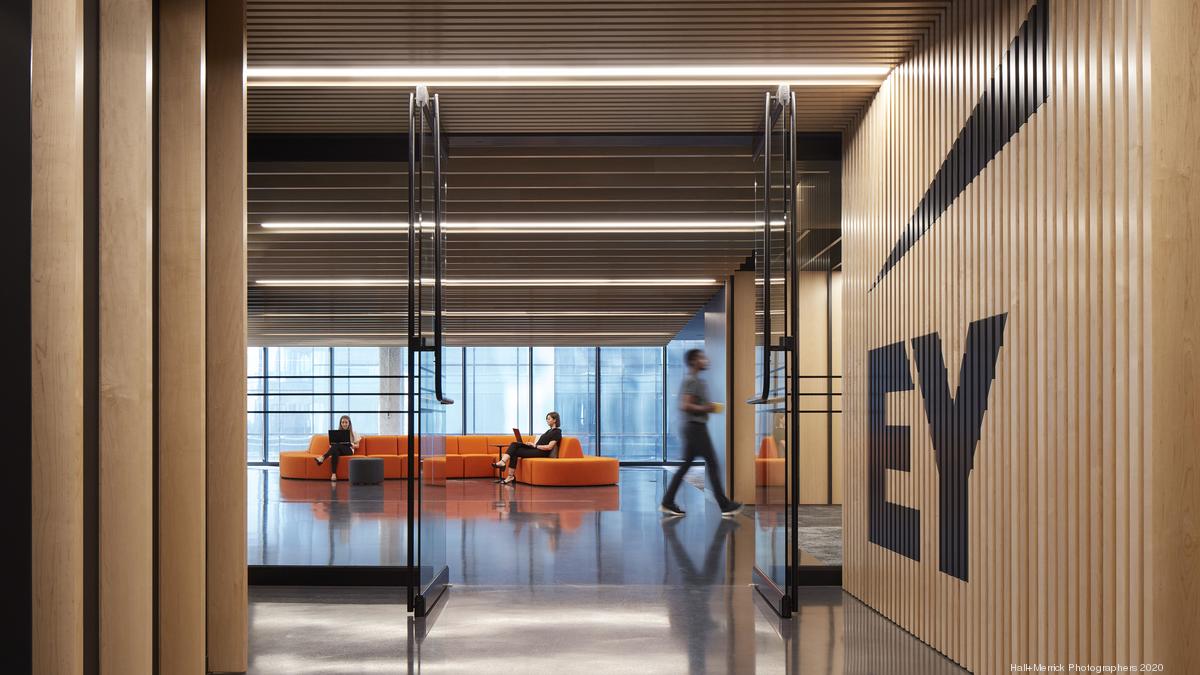 Our Sandstone | Silver Rock pattern is inspired by The Wave, a breathtaking rock formation near the Arizona-Utah border. The pattern features wavy grey lines on a white background that mimic the lines seen at the Coyote Buttes at the Wave in Utah. The design creates shell-like curves that overlap and create a soothing, natural look, despite being a graphic design. This pattern was used in the conference and break rooms on several floors. While it may look similar, we actually created a custom color of Sandstone | Silver Rock and enlarged the scale for this project, so it would have a richer presence on the wall.
The Migration | Snow pattern is inspired by the murmuration of flocking birds. The pattern features little grey dots on a white backdrop, mimicking the look of a massive bird flock flying together in the sky. This pattern was used in the conference and break rooms on several floors.
The Tides | Freshwater pattern is inspired by the graduated textures of sand, pebble, and water. The pattern features lots of little white dots on a blue backdrop, varying in terms of spacing, with some clusters super close together and others areas becoming gradually more disparate. This pattern was used in both the men's and women's bathrooms on several floors.
What we are most excited about with this project is the timeless quality that our designs bring to any workspace. These wallcoverings create a sense of serenity and wonder, encouraging productivity and improving the psychological well-being of the space. We take great pride in the unique quality of our designs, captivating viewers and inviting them to meditate on the artistry, ultimately offering an escape from the everyday.
Of course, with any project, there were challenges to overcome. Because the bathrooms flowed from stall to stall, the team needed to create a repeat in the Tides | Freshwater wallcovering for a better flow and an easier installation experience. Creating a repeat in a non-repeating pattern can alter the entire look and feel of the piece, so the challenge was to create a functional, yet attractive pattern that still felt expansive.
Because there were so many offices and rooms to keep track of, we needed to ensure that all of their files were labeled and packaged according to their respective office and floor in order to make the installation process super clear. The measurements of each room were also mostly different, so our team needed to customize the space for each area. In total, the project used used approximately 7,000 sq ft of material spanning across over 50 unique areas
We were honored to have worked with both Perkins + Will and Ernst & Young for this project and we appreciate their commitment to creating an inspiring and meditative work environment and we hope this project inspires other designers and architects to reach out to us if they are looking to create something similar for their clients.